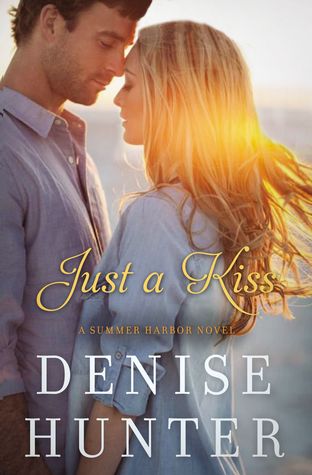 3.5 STARS
Just a Kiss by Denise Hunter is the 3rd book in her Summer Harbor Series.  Although part of a series, it can be read as a stand-alone. 
Riley Callahan has been harboring feelings for his best friend Paige Warren since they were both seventeen years old.  Unaware of his feelings for her, Paige begins dating Riley's older brother.  To protect his heart, Riley enlists in the Marine as means of escape.  He gets seriously injured in the line of duty and returns home to find himself living in close quarters with Paige.  The story follows their emotional journey to finding love in spite of trying circumstances.  Prepare yourself for lots of drama and emotional turmoil. The book is classified as a Romance or Christian romance, but is more of a drama.  Honestly, it reads more like a case study of human beliefs or psychology. 
This book wasn't exactly my cup of tea.  I found some of the emotional dramas redundant and frankly unnecessary.  I understand the author wanted to show the psyche of the wounded veteran and his difficulty in coming to grips with his current situation…it was just a bit repetitive.  That's likely just my opinion though.  Having said all that, this isn't a bad read.  For fans of Christian Lit, Drama, or what I'd term Romance-Lite Reading, this will likely be a very enjoyable read.  The writing is solid.  The secondary characters and storylines were entertaining.   For fans of traditional romance, be aware that there are only a few kissing scenes. 
**ARC received via NetGalley in exchange for an honest review**